Planning a nursery room for babies is the dream of every parent. Babies' nursery is incorporated with a lot of things, and nursery glider should be your number one priority. While setting up a nursery keep in mind that your baby needs you the most and having a nursery glider can help you with that. With a nursery glider you will spend more time with your baby, and it will allow your baby to feel comfort of a mother. Imagine waking up at night with the cry of your baby when he needs to get the feed and you have no idea how to find a comfort spot where you can calmly feed the baby. Well, a nursery glider might help you out! A nursery glider is going to be your babies' favorite place where you read the first books to them, feed them, and take naps along your little ones. Now you might be thinking about what baby glider is the best for you and your baby and how to search for the perfect fit. We have keenly selected some of the best nursery gliders to help you with the purchase decision of baby gliders for your baby. Do I need a glider for my baby's nursery? We have already discussed the benefits of having a nursery glider. If you want to spend some quality time with your baby, then you should get a glider. Moreover, a nursery glider helps you in soothing the baby without making extra efforts. A nursery glider is the updated form of rocking chair with a new look, so if you are planning to get a rocking chair, you should get a glider.
Things to watch before getting a nursery glider:
Get a glider that comes with removable cushions so that you can get it cleaned if your baby spills or throw up.
Comfortable at neck and back:
The purpose of a glider is to provide comfort and support to you and your baby, so make sure that it comes with added neck and back support so that you feed your baby in a most comfortable way. Comes with extra padding: A nursery glider is different from a chair or sofa, you have to glide on it for hours, and it is important to get a glider that comes with enough padding.
How much space does it cover?
Baby gliders usually require a lot of room to fit in, however, there are some cozy and small-sized gliders too. Always look for the baby gliders that can perfectly fit your baby's nursery without getting you in a panic state.
Best Nursery Gliders:
Baby Relax Mikayla Swivel Gliding Recliner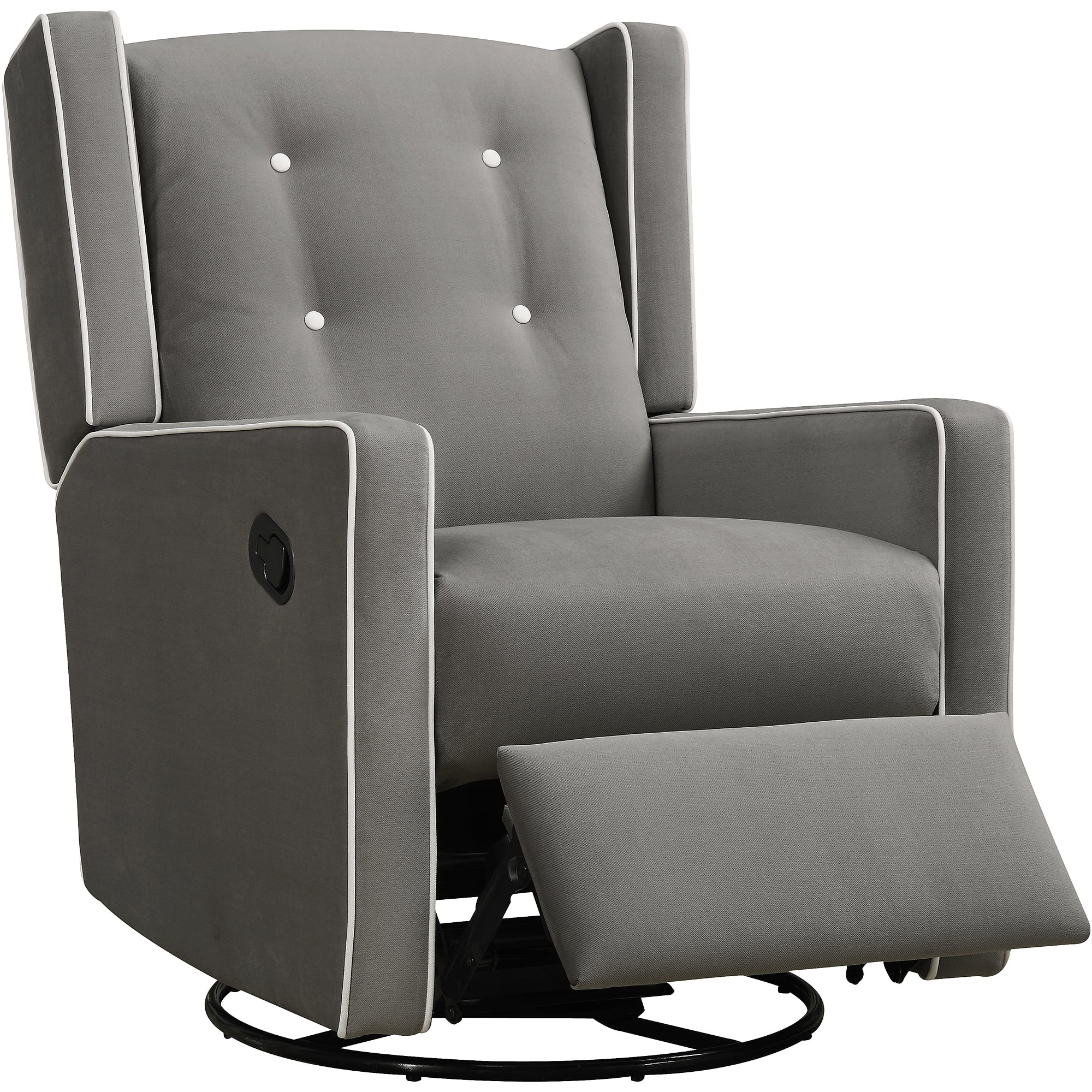 Price: $379
Key Features:
Slim cushioned back
Head and neck support
Glides and swivels at 360 degrees
Easy to clean
Specs:
This glider ranked the first in our list due to enormous benefits and pretty design. The best part is that this nursery glider is easy to clean, which means that it is going to be spot-free forever. The nursery glider glides at 360 degrees and is 30 inches wide, 37 inches deep, and about 42 inches high. Moreover, this glider comes with the added neck and head support, which makes it the most comfortable and calming spot for you and your baby.
DaVinci Olive Glider and Ottoman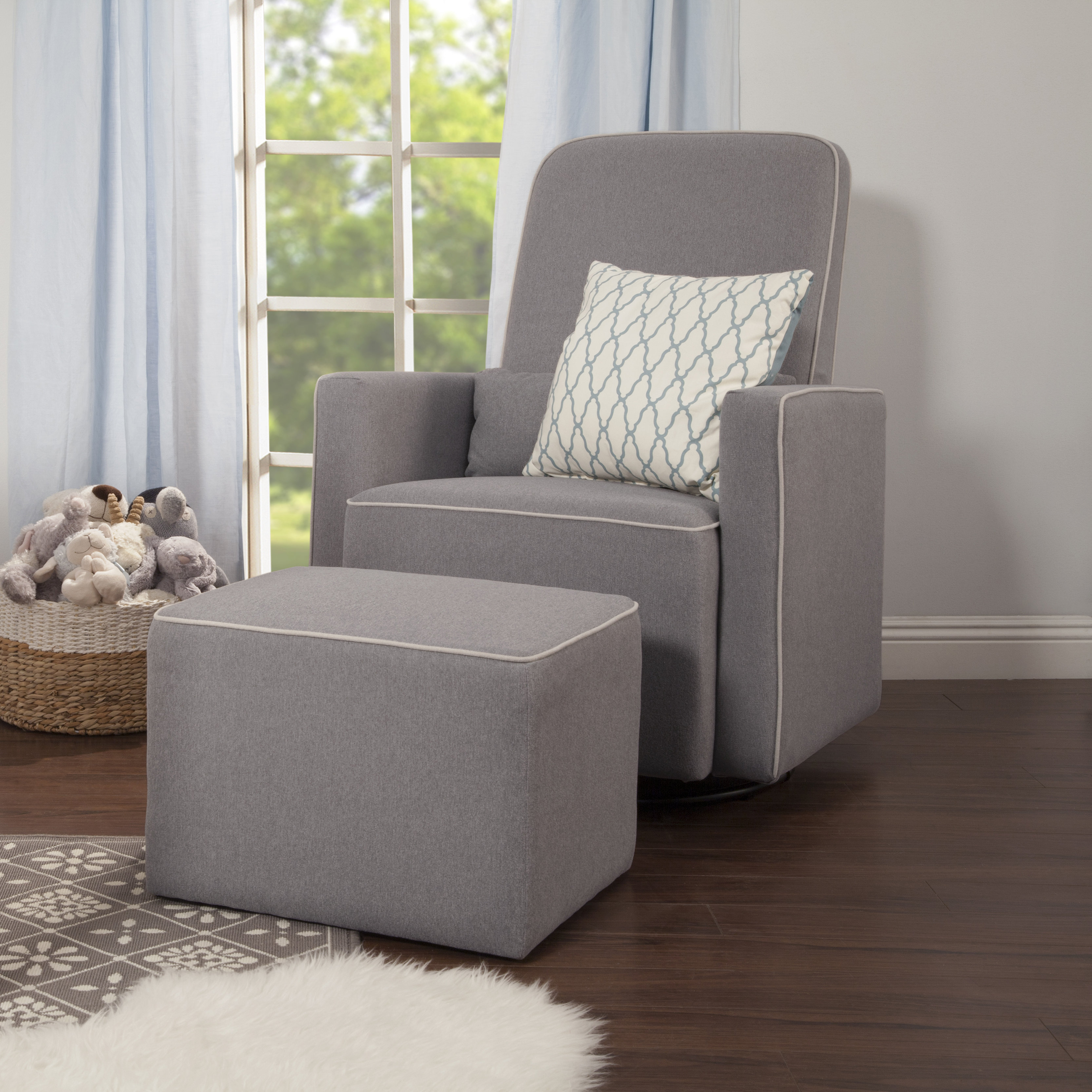 Price: $329.00
Key Features:
Smaller in size
High back
Lumbar pillow and ottoman for extra support
360-degree swivel for smooth gliding
Specs:
If you want to get a nursery glider, but you do not have enough space, then this glider is your best fit. The glider is smaller in size as compared to several gliders in the market. Its high back comes with the lumbar pillow and ottoman for extra support. It has a metal base that features a 360-degree swivel for smooth gliding. This nursery glider is very pretty in design is does not cover a lot of space. If you want a compact, cute nursery glider, then get your hands on it.
Babyletto Madison Swivel Glider
Price: $249
Key Features:
Modern and classy design
Lower back
Made with water- and stain-resistant fabric
Easy to clean
Specs:
If you are planning o have a modern nursery with all the trendy furniture, then Babyletto Madison Swivel Glider will be your favorite. It features a low back and clean, modern lines that make it a perfect fit for a modern nursery. The chair is made from stain-resistant microsuede that is easy to clean and very durable so that you don't have to worry about the spills and accidents caused by your little ones.
Delta Children Emma Nursery Glider Swivel Rocker Chair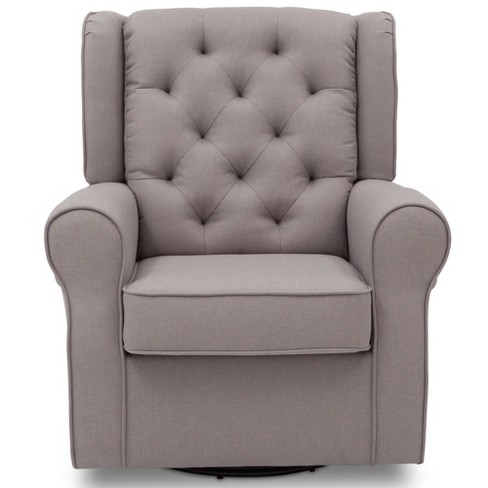 Price: $329
Key Features:
Traditional design
Wingback design
Easy to clean
Removable cushion
Specs:
If you are not a fan of modern look gliders and you need something that is more traditional looking, then Delta Nursery Glider is the way to go. This glider features traditional wingback style, rounded rolled arms, and a stuffed back that makes it very comfortable for you and your baby. The fabric is easy to clean, and the cushions are removable so that you can get the glider clean completely if needed.
Naomi Home Brisbane Glider and Ottoman Set
Price: $140
Key Features:
Affordable
Comes with matching ottoman
Easy to clean
Requires to be assembled at home
Specs:
This 40 inches high, 26 inches wide and 25 inches deep is all you need if you don't spend hundreds of dollars. The glider comes with the matching gliding ottoman, and is offered in a widespread range of colors, like white, espresso and gray. This affordable glider is a perfect match for your baby's nursery, and it will add extra comfort to your life.
Final Verdict:
Getting the baby's nursery ready is the best part of the parents' life. While you are making a list of the things you need for the nursery, a rocking chair or a nursery glider must be your top priority. A nursery glider will help you in spending more time with your baby as well as it will help you in soothing the baby without extra efforts. In this guide, we have discussed top five baby gliders with respect to price points and other features. Get the nursery glider that perfectly suits your baby.