Picking the right baby food for your little one can be difficult. There are several types of food packages in the market that finding the best one for you baby is very confusing. When it comes to baby food we want to feed our little ones with 100% organic and healthy.
When should you start buying baby food?
It is very important to understand the right age of your baby to get started with solids. Babies are ready to eat solids when they are 4 months old. However, according to the experts the best age for the babies to eat soilds are 6 months. Moreover, it depends on the development of your child too.
In order to give your child solid food it is crucial to talk to their pediatrician and know that this is the right time to feed your child with solids. When it comes to solid food, your doctor will recommend light foods like cereal, mashed potatoes, bananas or any food purees.
When you are thinking to give your kid solid foods you have to understand the food related allergies. Your baby is the most sensitive human and you have to get him tested for the food allergies in order to give him what's best for him. According to American Academy of Pediatrics (AAP), babies can be allergic to food as early as they are 4 months old.
When you are sure that your baby is allergic free from any kind of food you can start with the organic home made food or get your hands on the best shelve food that we are going to discuss in this food review.
1.     Best Baby Food Pouches by Ella's Kitchen
These organic food pouches are made from 100% organic ingredients. Your baby can eat it as a snack if he is older than 6 months with big appetite. Otherwise babies from 4 months to 6 months can eat this organic food as a substitute of the milk and they will stay full for the long time.
Ella's Kitchen products comprise veggies and fruits that are intermingled with nothing else for awesome taste. That means that, there are no additives. The food is available in a yummy flavors, such as apples, sweet potatoes, pumpkin and blueberries.
2.     Earth's Best Organic Baby Food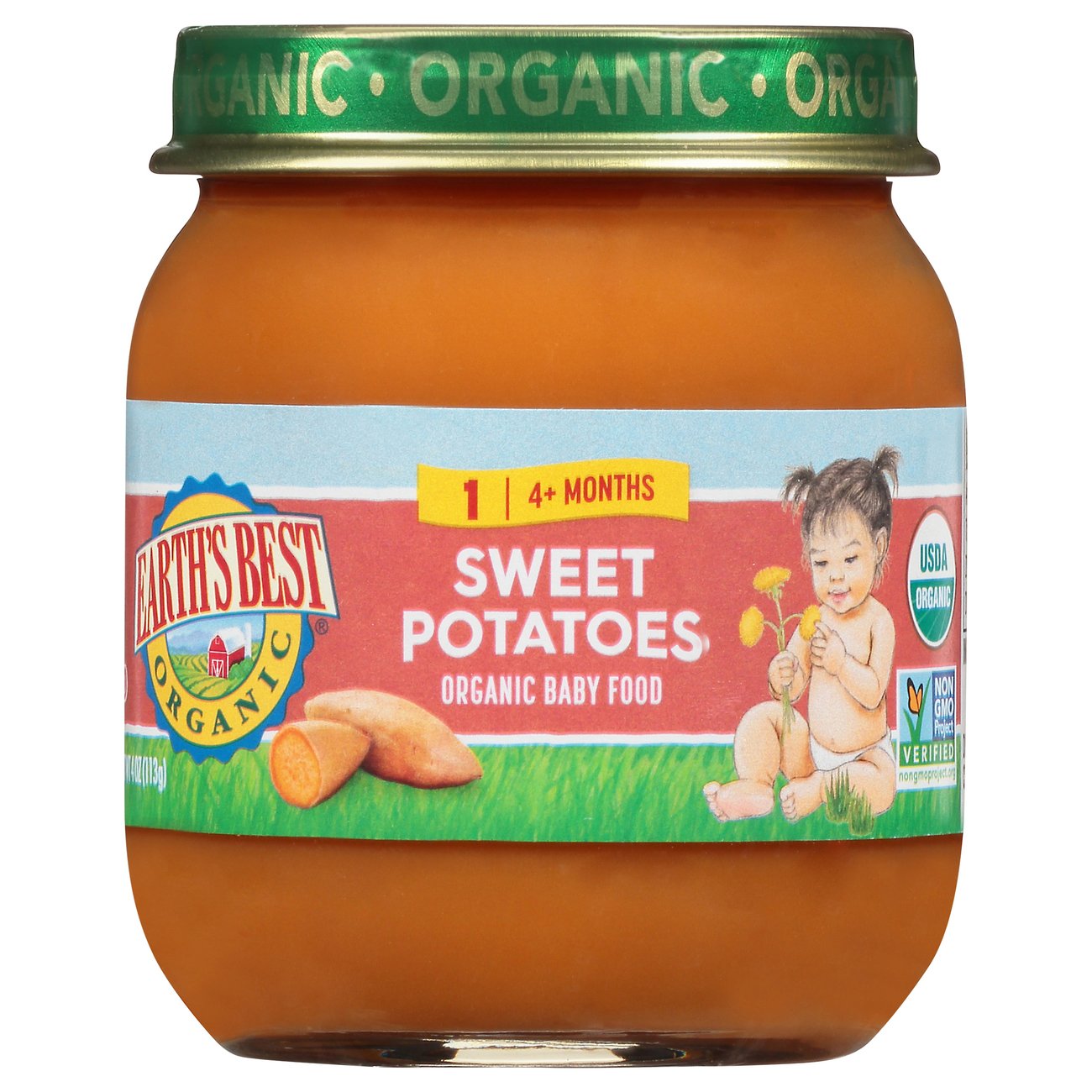 This is one of the best organic baby food with a lot of nutrition and is very affordable. The food contains no artificial colors or flavors and is unsweetened and unsalted. The food is available in three stages, stage 1 to stage 3. Stage 1 comes with single food purees to enable you to carefully familiarize foods to you baby, one by one. As baby progresses to Stage 2, he'll like new taste combos, while Stage 3 comes in varieties of texture that include chunkier puree that's suitable for older babies.
3.     Mama Bear Organic Baby Food
Third on our list is Mama Bear Organic Baby Food that is the best representation of health, taste and cost. The food comes without any artificial sweetener or additive.  The food is certified USDA and purely made from non-GMO ingredients.
The food comes in 2 stages. Stage one is appropriate for the babies of 4 to 6 months. However when the baby is used to with the developed food taste, you can start giving stage 2 food.
4.     Beech-Nut Organics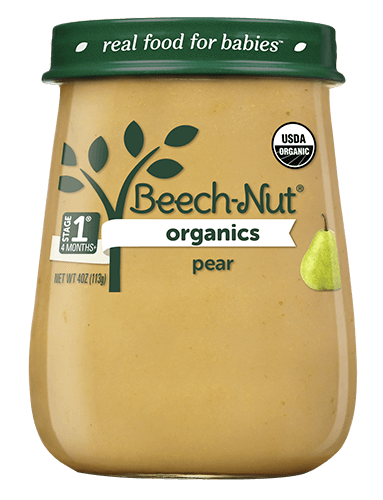 Beech Nut Organic comes in jar and you can find both variations of organic and natural according to your preferences. The food contains no artificial flavor or sweetener thus it is best for your kid. The food comes in stages. In the first stage the food contains purees of fruits and vegetables. In the next stage contain fruit, veggies, grains and more, as well as heartier textures for little ones with a bit more eating experience. Moreover, these glass jars are very convenient to use and contains no plastic.
5.     Happy Family
The Happy Family brands, which comprise Happy Baby and Happy Tot, provides pouched food with variety of organic fruits and vegetables, grains and seeds, and vitamins and nutrients. The selection of flavor blends, featuring things like apples, kale and avocados and carrot, mango and sweet potato is the best for the babies. This food contains no addictive or artificial flavors that will keep your baby fresh, healthy and full for long.
Bottom Line:
In this Food review, we have discussed five of the top organic baby foods. Babies are sensitive and their health can get affected by the food intake. When baby grows to 4 months his appetite increases and parents are confused about how to start baby food. It is very important to start with purees and later on give your babies some textural food. This review will help you in selecting the best baby food for your kid.