Diaper bags are considered as number one essential when it comes to kids shopping. A diaper bag is spacious enough to carry all the baby belongings easily.That's why parents always tend to carry diaper bags on important trips just to be prepared any time their babies need to get changed or get fed.
Types of Diaper Bags:
There are several types of diaper bags the most well-known are:
Backpacks:
This is the cutest and stylish diaper bags they keep your hands free while you carry your baby in your arms.
Tote bags:
The most commonly used bag, you can carry it like a purse.
Satchels:
These come with long straps and can be used as cross body bags
Clutches:
Portable and compact bags with minimal design, easy to carry.
Get the best diaper bag:
1. Skip Hop Duo Signature Diaper Bag
Price: $64
Features:
Tote Bag
10 Standard Pockets
Specs:
This tote bag is the classic version of a standard diaper bag. The bag comes with 10 pockets that include 2 mesh pockets. However, there is no insulation to keep the feeding bottles hot or cold. The design of this diaper bag is a classic tote with over the shoulder strap.
2. JuJuBe BFF Diaper Bag
Price: $180
Features:
Three features of a messenger bag, tote, and backpack
Teflon Coated
Dirt Repellent
Machine washable
Specs:
This bag is all in one a messenger bag, tote bag and backpack. The bag is completely safe to be washed in the machine. It comprises of Teflon coating that makes it stain and dirt free. The bags come with huge storage and can easily carry diapers, clothes, and feeders. This is a pretty good deal in this price
range.
3. Abundance Boxy Backpack
Price: $210
Features:
Built-in changing station
Stylish design
Backpack
Accessible exterior pocket
Specs:
This is the most compact and stylish backpack to be carried around by parents. The best part is that this backpack comes with the built-station and can be pulled long enough so that you can easily change your baby's diaper. So, say goodbye to the germy areas and get your hands on this pretty backpack. Moreover, it allows easy access to the exterior pockets so that you can easily get your things.
4. Freshly Picked Butterscotch Classic Carryall
Price: $175.00
Features:
Gender Neutral
Modern design
Backpack
Insulated pockets
Specs:
This backpack comes I a modern design and allows both parents to carry the bag as it is gender-neutral. If you want to keep the bottles warm and cold then insulator pockets can help you out. Moreover, the side pocket is best to keep your wipes. The exterior compartment can hold all the basic things like wipes and diapers so that you can quickly change the diapers.
5. Skip Hop Greenwich Convertible Hip Pack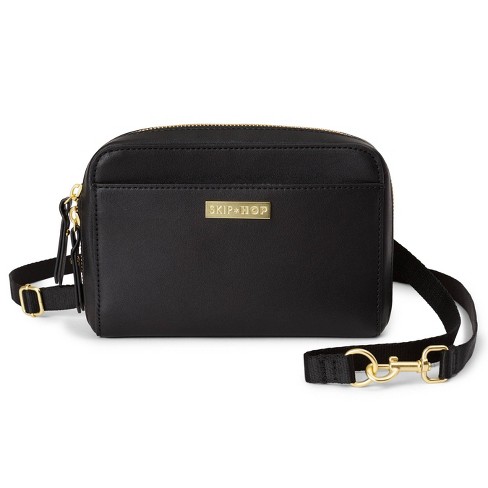 Price: $33
Features:
Small bag
Belt bag design
Spacious
Compact Design
Specs:
This bag might look small but it can easily carry away a lot of belongings including two diapers, a small pack of wipes and parent stuff like your cell, sunnies and credit cards. The bag is perfect to be carried for quick outings and running some errands. The bag looks really cool while you wear it as a belt around your hips.
Final Verdict:
Diaper bags play a significant role in making the lives of parents easy while they go out on a trip along with their babies. There are several options for baby diaper bags in the market and sometimes it is difficult to select the best one. To make you choose the diaper bag easily we have discussed the top five best diaper bags to get your hands on. From the price point to the features we have discussed every aspect
to make you choose easily.