Having a baby is all fun and games until your arm feels like a stone due to carrying around your little one for hours. Imagine you are in the middle of the night and you wake up with the screams of your baby it is surely very hard to get the baby in your arms and comfort him after the long tiring day. Thanks to the advancement in innovation that we have baby swings and bouncers today. Baby swings help the parents in comforting their babies and giving them some time to relax themselves. Typically the bouncer is lightweight and can be adjusted on the floor. Bouncers are suitable for infants and newborn babies. Swings are for the
toddlers as they have rapid movement the experience might be overwhelming for the newborn and infants.
While there are several options in the market it is not easy to select the best option and we are here to help you out.
1: 4moms mamaRoo
Price: $249
Features:
Five Fluid Motions
Built-in white noise
Can be connected to an MP3 player
Specs:
This cute little bouncer is perfect for your baby to soothe him out with five different bouncing stages. It also offers to be bounced upward and downward. Moreover, this bouncer also contains white noise to make your baby sleep peacefully. You can also connect the music of your choice with MP3 connecting system. This bouncer is perfect for infants.
2: Fisher-Price Infant-to-Toddler Rocker
Price: $24.99
Features:
Vibration
Vibrant and cute design
Removable Toy Bar
Can be used by a toddler
Affordable Price
Specs:
This bouncer is a classy and traditional style. The bouncer feature options of vibration and two recline positions. The bouncer allows removing the toy bar that and it can be used by the toddler as a rocking chair. If you are looking for a cute variation of a baby bouncer at an affordable price then get your hands on this amazing bouncer you will not regret the purchase.
3: Graco Duet Soothe Swing & Rocker
Price: $125
Features:
Duet of swing and bouncer
White sound and music incorporated
Removable Cradle Seat
Specs:
The Graco bouncer and swing provides two in one option to ease your life much. It is a one-time investment and you will get both the swing and the bouncer. The removal of the cradle is very simple and the swing will be converted into the bouncer within seconds. The bouncer is very lightweight and can be lifted from room to room. There is a lot of baby music and nature sounds incorporated in the system that keeps your baby engaged while you quickly run the home chores.
4: Nuna LEAF Grow Seat
Price: $289.95
Features:
Modern design
Can hold the weight up to 113lbs
Made with organic cotton
Features Three Recline Positions
Specs:
This bouncer is a premium addition to your furniture. It is made with organic cotton that is perfect for your little one. The bouncer comes in neutral shades and very sleek design so that you can use it in as furniture for years. This is because it can hold up to 113lbs ad can be used as a rocking chair once your child is grown. For the older kids, it consists of a mesh seat. For the extra safety to the newborn baby, it comes plush infant insert. If you want a baby bouncer for the years of commitment that will compliment your living room then this is a must to have.
5: Fisher-Price Sweet Snugapuppy Dreams Cradle 'n'Swing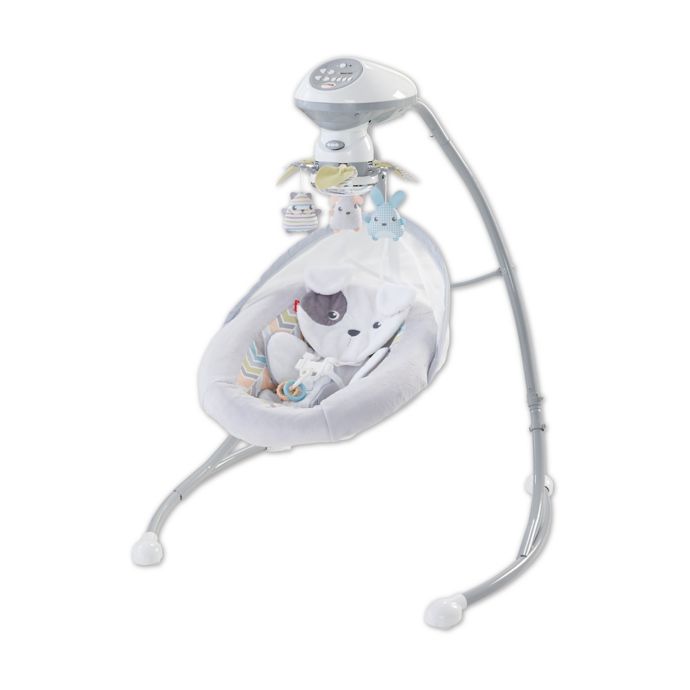 Price: $159
Features:
Affordable
Extra comfort with plush seat
Six different speed settings
White noise
Machine Washable cloth
Specs:
This cute bouncer from Fisher is affordable and features an attractive Snugapuppy that is perfect for your infant. The bouncer offers a plush seat that is very comfortable for your baby. If your baby takes too long to sleep and is not a big fan of being in calmed mode then this bouncer also offers 16 songs and nature sounds, including white noise to keep your baby soothe and relax. Get this amazing bouncer to keep your baby healthy, happy and calm.
Bottom Line:
We understand the importance of baby cradles, bouncers and swings in parent's life that why in this product review we have discussed five different bouncers to keep your baby calm. Check out the price, key features and get what is best suited for your little munchkin.