Your baby can start using Sippy cups when they start eating little bit of solid foods such as smoothies and other food usually when they are around 7 months of age. The bottle habit is not good in a long run and your baby might not eat the solids if he is stuck to the feeding bottles. It is very important to switch to the sippy cups to encourage your baby to eat solids.
There are enormous amounts of sippy cups in the market and you might get confused. To help you outr in choosing the best one for your baby we have exclusively brought you a list of sippy cups.
Choosing the best sippy cup for your little one
Before getting ahead towards the selection of Sippy Cups let us tell you what to look for when choosing the sipppy cups:
Leak-free: make sure that the cup you are choosing is leak-free otherwise your baby will not eat through it or it might get you in a messy situation after you are done with feeding your baby.
Ease of cleaning: Ensure that the cup is easy to clean so that no bacteria or germs can grow in it.
Free of harmful chemicals: We want best for our babies and for that purpose get the cup that is completely free from any kind of chemical and BPA-free.
Easy to use: lastly, get the cup that is easy to use by your baby. It should feature handles or a grip so that your baby can hold it.
Best Sippy Cups:
1.     Munchkin Miracle 360° Sippy Cup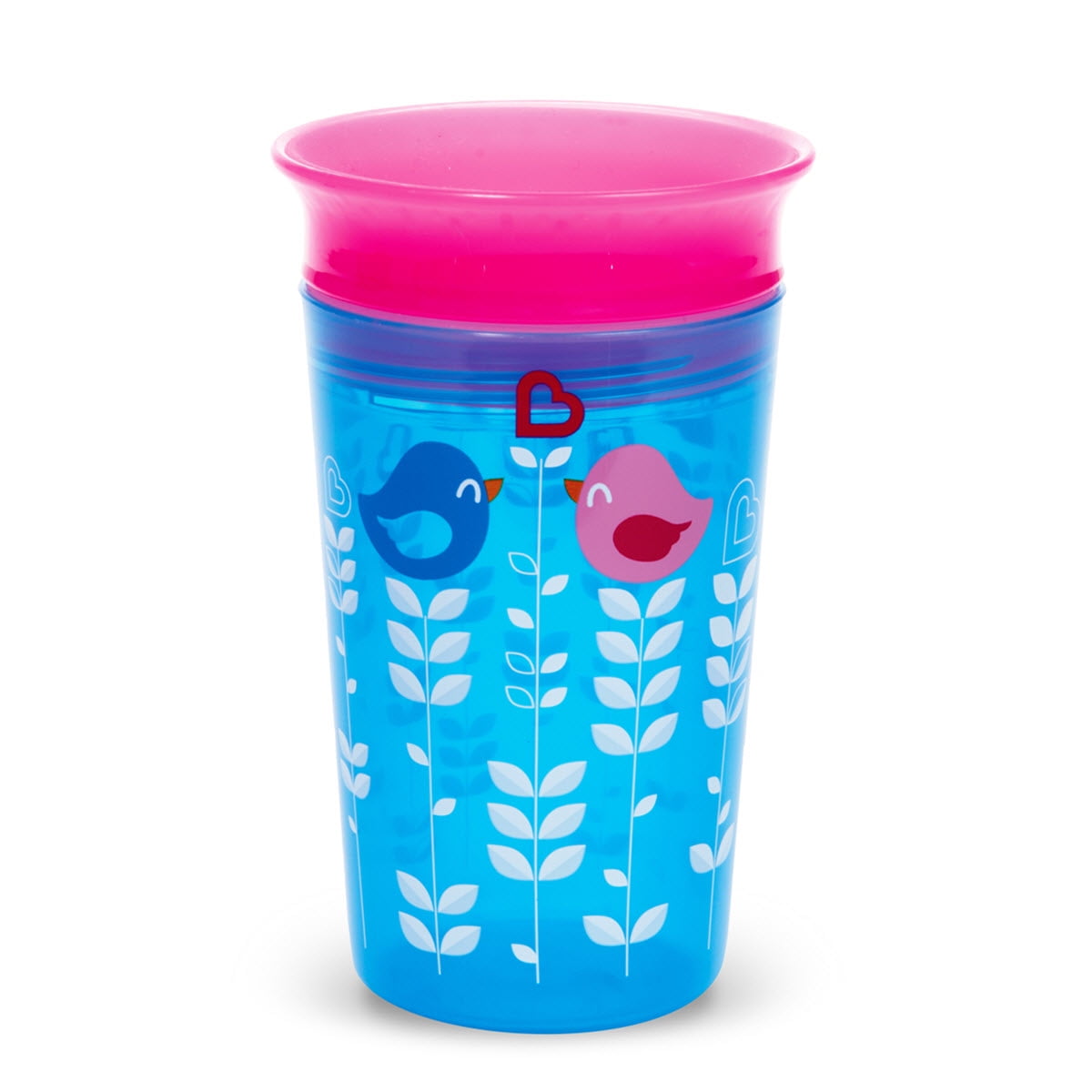 Price: $8
Specs we love:
This cup provides a leak-proof lid that allows the transition from bottle to cup easier. It also enables to the healthy teeth and muscle growth, as your child acquires to sip from the rim of the cup. It can hold 14 ounces and is intended to use by the children that are 18 months and older. The best part is that the cup is made from BPA-free plastic and provides a soft, easy-to-grip exterior perfect for tiny hands.
2.     MAM Trainer with Handles
Price: $5
Specs we Love:
This cup provides an easy transition from bottle to cup. The cup comes with the leak-free caps that keep you away from any kind of messy situation. If you are worried about handling the sippy cup then do not worry as this cup comes with the perfect grip material that is easy to hold and use by your little one. There is no harmful material used in making the cup and it can hold up to 8 ounces of fluid.
3.     Green Sprouts Glass Sip & Straw Cup
Price: $20
Specs we love:
This cup contains 4 ounces of liquid and perfect to sit in your bag. The cup comes with the straw that can be used if you want to. Moreover, this cup can be transited to the bottle to provide you and your baby favorable feeding time. The cup is made with FDA approved material and is free from BPA and all other types of toxic elements. If you are worried about the spills and mess then do not worry! The cup is completely leak-free.
4.     Klean Kanteen Kid Kanteen Stainless Steel Sippy Bottle
Price: $18
Specs we Love:
This cup is going to be your little ones' favorite. It comes in cute funky colors and can hold up to 12 ounces of liquid. It is made with 18/8, food-grade stainless steel and its single-wall design is safe and durable. This cup is perfect to be used by toddlers or the babies who know how to handle the sippy cup carefully as the lid is nor leak-free.
5.     First Essentials by NUK Sippy Cup
Price: $3
Specs we love:
If your baby loves to chew on the plastic or needs something to sooth the developing gums then this sippy cup is a perfect fit. The cup is completely leak-proof, spill-proof, break-proof and dishwasher-safe. The cup is perfect to be used by kids of 12 months and older. It can hold up to 10 ounces of liquid.
Bottom Line:
Babies grow in no time while we master the art of getting the best feeding bottles, it is already the time to switch to the sippy cups. With several options in the market it is difficult for the new parents to get their hands on the best sippy cups. In this user guide, we have discussed five of the top sippy cups for your little one.