Don't let those little twinkling eyes cry with harsh shampoos, get your hands on the best baby shampoo from the list that we've exclusively brought for you… Our love for babies will never die especially when it comes to that marshmallow sweet baby odor that we all adore with all our hearts. In this review, we are going to list down best baby shampoos for your little munchkins. Let us first take you to the road of choosing a baby shampoo While there are several different factors that trigger so to make a purchase of baby shampoo.
We've come up with the selected tips for choosing the right shampoo:
Harsh Toxicants:
most of the adult shampoos are comprised of parabens, phthalates, and sulfates but these chemicals are very harmful to the baby's skin. Your baby's skin can get permanently damaged if you use any harmful chemicals like these. So always look for the ingredients while selecting a baby shampoo for your kid and do not let the harsh chemicals affect your baby.
Fragrant Shampoos:
We all are stimulated by the sweet baby fragrance in the products however, these products might affect your baby adversely. Try to choose fragrance-free products for your little ones or get the product with the least fragrant and smell.
No Tear formula:
when getting a baby shampoo always go for the no-tear formula so that those little twinkling eyes do not tear up while their sweet mommy bathes them.
Now let's dive into the list of baby shampoos that we consider best on the basis of analysis, research and reviews from the genuine consumers:
Babyganics Shampoo and Body Wash, 3-Pack
This baby shampoo retails for $32 on Amazon. This shampoo is created to add extra foam and bubbles when you bathe your baby for some extra fun. The shampoo contains no harmful chemicals and is very comfortable on baby's skin. This shampoo includes natural ingredients like aloe, cucumber extract, and sunflower seed oil.
Cetaphil Baby Wash and Shampoo
This amazing shampoo and baby wash is made with no tear formula and it will not cause any harm to your sweet baby. The main ingredient that makes this wash completely perfect to purchase is calming organic calendula. This formula will keep your baby's skin clean without drying it out. The shampoo is available in only $6.
Aveeno Baby Wash & Shampoo, 18 oz.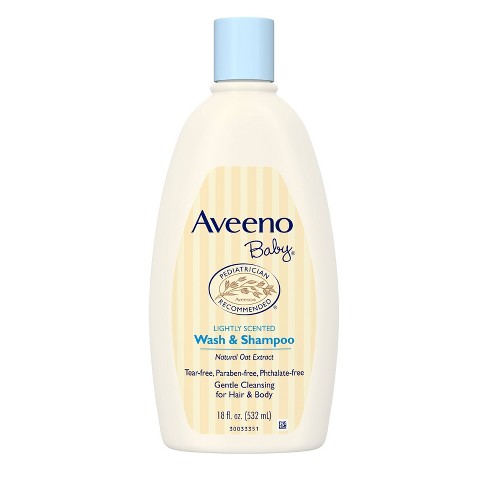 Get this amazing formula in $8 on amazon. This amazing product comes with a sweet smell that will give extra charm to your baby. The main component of this shampoo is oats extract that will keep the skin completely clean without drying it out. The bottle comes with 18-oz liquid and it will be enough for a lot of baths.
The Honest Co. baby shampoo and body wash in Sweet Orange Vanilla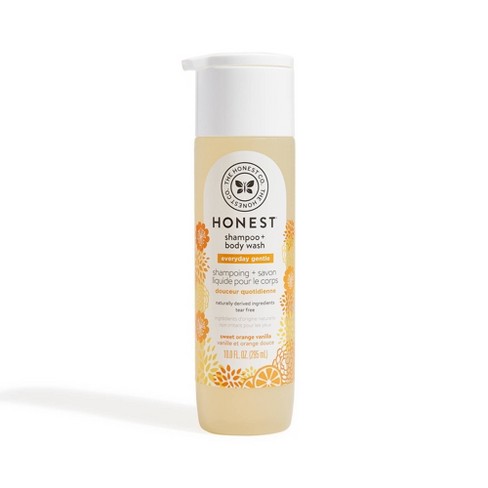 Get this shampoo on Amazon for $9. If you love the sweet fragrance of yummy candies and scrumptious marshmallows then get this shampoo right away. It will make your baby smell like cotton candy after you bathe him. Do not worry about any sort of harmful chemicals as the shampoo is free of any sulfates and parabens. Your baby will not get harmed and the shampoo will not get him a teary eye.
Puracy Natural Baby Shampoo & Body Wash
If your baby is suffering from eczema or sensitivity then you should know about this shampoo and body wash. This formula is specially developed by the doctors in order to protect your kid from any type of skin irritability. The shampoo contains all organic and natural products that help the scalp and skin to be cleaned without causing any harshness. Get this amazing product in $12.99
Tubby Todd Hair & Body Wash
This is another favorite one on our list. This shampoo is loved by all the babies because they love to play with shampoo lather and foam. Moreover, this shampoo can even be used by adults. So get your hands on the bottle of this amazing shampoo is $15. This shampoo is free from all the harmful chemicals like paraben, gluten, sulfate, artificial color and fragrance, and BPA.
The Honest Company Shampoo and Body Wash
Looking for a shampoo that will not tear up your baby? Well, this might be your choice! This shampoo is made with natural, plant-based moisturizers like aloe, chamomile, calendula, and coconut oil. This is dermatologist tested and comes in the sweet scent of orange and vanilla. Get this amazing shampoo is $9.
The Final Verdict:
We have keenly selected the most used baby shampoos that do not cause any harm to your baby's skin. From the fragrant to the non-fragrant and lowest to the highest price, the list includes everything that you are looking for. Grab your favorite shampoo and let your baby enjoy his bathing time with a lot of bubbles and lather to play.