Kate McKinnon won her second consecutive Emmy on Sunday for her work on NBC's Saturday Night Live. The out actress is best known for her portrayal of former Secretary of State Hillary Clinton on the comedy skit show. "On a very personal note, I want to say thank you to Hillary Clinton for your grace and grit," McKinnon said in her acceptance speech.
This was the second time that McKinnon has thanked Clinton at the Emmys, having thanked both Clinton and comedian Ellen DeGeneres after winning the same award in 2016. In February, Clinton and the actress were spotted dining together at a restaurant in New York. Hillary Clinton herself also described herself as a "big fan" of McKinnon's, while McKinnon revealed that she had been "rooting for" Clinton to win since the earliest days of her campaign.
Kate McKinnon thanks Hillary Clinton in Acceptance Speech. Watch this video.
And on Sunday evening, McKinnon took home the Emmy for best actress in a supporting role — in part for her portrayal of Clinton: She continued, "Thank you to our crew and thank you to our amazing writers. It's all about the writing, you guys. … On a personal note I want to say thank you to Hillary Clinton for your grace and grit." The Rough Night actress actually had dinner with the "What Happened" author in February in New York City. And if you remember, Clinton famously made an appearance on the sketchy comedy show in October 2015 alongside McKinnon, who was playing her in a skit at the time.
In an image below, Kate McKinnon's portrayal of Hillary Clinton.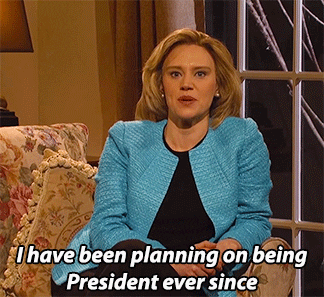 Here's more from twitter on this story.
https://twitter.com/nuiotwo/status/910522071469436928
Perfect: Kate McKinnon thanks Hillary Clinton as she accepts an #EMMY2017 pic.twitter.com/66UOP8GPhw

— RiotWomenn (@riotwomennn) September 18, 2017
These are the people tasked with making our culture's most well-known satire. https://t.co/MIaQ0LLDMD

— Breitbart News (@BreitbartNews) September 18, 2017
Apparently "grace and grit" and "pissing and moaning' mean the same thing.https://t.co/8ohOWWuTBW

— Mark Pantano (@TheMarkPantano) September 18, 2017
Kate McKinnon's Emmy Speech Abruptly Cut Off as She Thanks Hillary Clinton https://t.co/cPNkmAyaOK

— Caryn Maenza (@CarynMaenza) September 19, 2017
The "Saturday Night Live" star now has two Emmys to her name, but we couldn't help but notice that Sunday's show was also Kate's first appearance with her girlfriend, Jackie Abbott! When Kate, who is "SNL's" first openly gay female cast member, went to receive her statue for Outstanding Supporting Actress in a Comedy Series, she gave Jackie an endearing hug. Kate is best known for playing Hillary Clinton opposite Alec Baldwin's Donald Trump, who also picked up an Emmy for his performance. She has been a staple on the sketch show since 2012 and we cannot wait for her other impressions when "SNL" returns on Sept. 30 with host Ryan Gosling and musical guest JAY-Z.